Nicole Richie's 'idiot' tat: Nicole Richie Neck Tattoo
Nicole Richie's 'idiot' tat: Nicole Richie Neck Tattoo, When it comes to her bright pink pixie cut, Nicole Richie has zero regrets, except for one tiny aspect she overlooked before getting the chop — a tattoo of a little red bow with her last name that's now exposed on the back of her neck.
"I have a few tattoos, but I haven't gotten a new one since I was 21," the 33-year-old star told Into The Gloss. "I was a 19-year-old idiot when I got this tattoo on the back of my neck. You can see it now with the short hair but people aren't asking about it, which is nice."
It's not the first time Richie has opened up about regretting her ink choices. In 2014, she called the tattoo on her wrist — the word "virgin" in calligraphy — "embarrassing and desperate." She told E! News, "I am a Virgo so when I was 16 I thought, 'Ooh I'm going to be different and I'm going to put 'virgin,' because the Virgin is the sign for Virgo."
And back in 2013 for her debut episode of #CandidlyNicole (the AOL web series), Richie visited L.A.'s Dr. Tattoff tattoo removal clinic to see how difficult it would be to remove her "tramp stamp" (her words, not ours!).
It's basically every person's living nightmare that they'll end up hating the ink they wanted so much in the beginning, but leave it to the former Simple Life star to bring a little humor to the situation. At least she has some words of wisdom to pass down to her 16-year-old sis — and budding style star — Sofia Richie.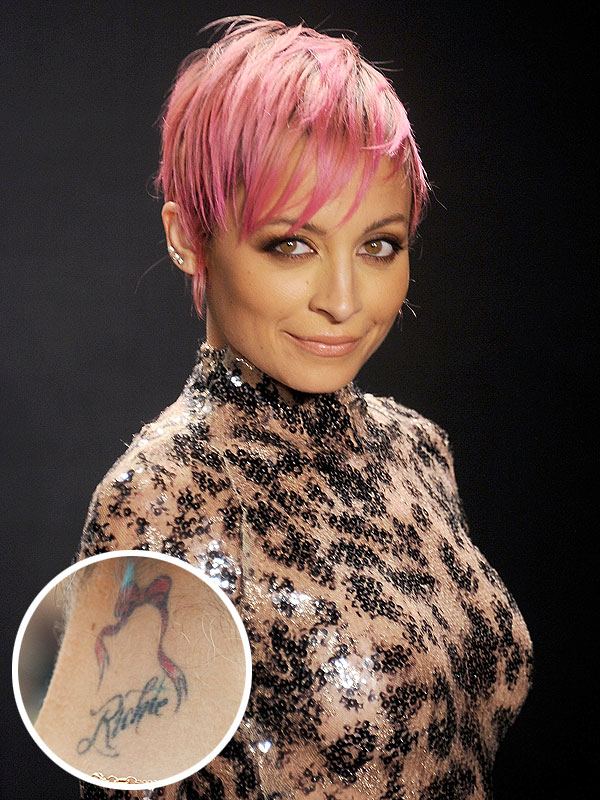 _________________________________________
Please feel free to send if you have any questions regarding this post , you can contact on