NFLer's baby dies at birth: Andrew Quarless
Published: August 4, 2015
NFLer's baby dies at birth: Andrew Quarless, On the same day the Green Bay Packers began training camp, tight end Andrew Quarless experienced an immense personal loss. "This past Wednesday, July 29, I lost my daughter on delivery," Quarless told reporters, per the Milwaukee Journal Sentinel. "Probably the saddest day of my life."
A daughter was to be the second child for Quarless and his long-time girlfriend, Rosie Sierra, who also have a 5-year old son. Quarless' teammates may not know exactly what he's going through, but they are still there offering support.
"Whatever he needs we will help him out with," Micah Hyde said on Saturday, again per the Journal Sentinel. "We're a family in here. I know a lot of teams say that, but we are. We are with each other all the time to hang out. It's not like we're in — name a big city. It's literally Green Bay, so we don't have much to do here. We hang out with each other. We are definitely like a family here."
Quarless had a rough July overall, as he was also arrested earlier in the month on allegations that he fired a weapon after an argument outside a parking garage. He described head coach Mike McCarthy as "very upset, very upset" in their phone conversation after the incident, one that initially made him fear he'd be cut and lose his chance at continuing to play football. Obviously that didn't happen, and now that he's back among his teammates, he appreciates the support they're giving him.
"It's been a lot," said Quarless. "It's been a lot. As you grow older as a man, you really understand life and you really understand things. I'm so appreciative of this team. Even from the incident earlier in the month, there's just been so much support. More than I feel like sometimes I might deserve.
"Just the amount of love from everybody, it's really been good for me. It's hard to explain how much that means to me. I'm just thankful. It really helps you put things in perspective. In my head right now, you really can't take anything for granted."
What Quarless truly appreciated was being able to see his son after practice on Monday, which a dozen of his family members attended. "The most important thing was seeing my son," Quarless said. "My son was able to come out there. He was really looking forward to being a big brother."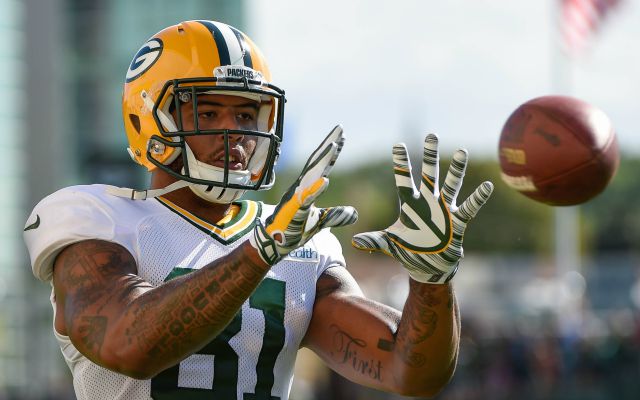 _________________________________________
Please feel free to send if you have any questions regarding this post , you can contact on