Man Punches Cougar
Man Punches Cougar, Never get between a Canadian and his mini dachshund. Shawn Hanson, a British Columbia resident, posted the following heroic story on a Facebook group dedicated to sightings of dangerous animals.
Hanson was filleting a fish on Salmon Beach in Ucluelet, British Columbia, July 2. His 10-pound mini dachshund, Bailey, was at his side. Suddenly, he wrote, "A f***ing cougar jumps out of the bushes and grabs the puppy."
"I hear a yelp, and see it dragging the puppy off into the bushes. Without thinking I chase in after it, catching up as it stops to see what is following. I grab Bailey (puppy) with one hand, punch the cougar in the face with the other, and it releases its grip on her neck," he wrote.
He handed off Bailey to his wife, grabbed his 12-gauge shotgun and headed back into the bushes. The cougar made aggressive moves towards him and didn't flee when he fired a warning shot.
"I put a round right at its head, and it spun around still moving. I pumped 2 more at the body," Hanson wrote. Here's a photo of him with the dead cougar.
Hanson told The Huffington Post he "absolutely" felt bad about killing the cougar. "It's sad, because the cats are beautiful," he said.
Ultimately, though, he believes the shooting was justified. The undernourished animal was desperate for food, which made it dangerous. It came after Hanson and had reportedly grabbed another dog earlier in the week.
Hanson called the police and conservation officers, who concluded he wasn't at fault.
Conservation officers had been tracking the emaciated animal, the Canadian Ministry of Environment told Good Morning America, adding that the case was closed.
Hanson says his love for his "amazing" pooch motivated him. "She's one of the family, and that's why I reacted the way I did," he said.
While Bailey is still stiff and sore from the attack, the dog's puncture wounds are healing up well, Hanson said. Meanwhile, he's embracing his new nickname: "Cougar Puncher."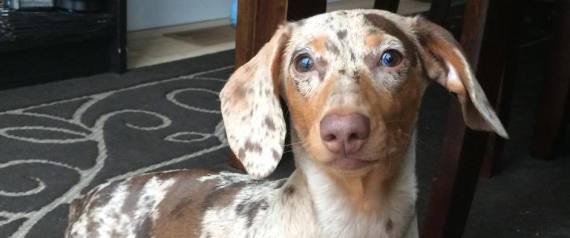 _________________________________________
Please feel free to send if you have any questions regarding this post , you can contact on