Laptop-bomb exploded?: Laptop Bomb Somalia Plane
Published: February 6, 2016
Laptop-bomb exploded?: Laptop Bomb Somalia Plane, The man sucked out of a Somali airliner after an inflight explosion has been identified as Abdullahi Abdisalam Borleh, an elderly Somali national, Somalia officials said Friday.
Investigators suspect he carried a laptop computer with a bomb concealed onto the plane, according to a source familiar with the investigation.
The source said Borleh apparently knew precisely where to sit and how to place the device to maximize damage. The source said, given the placement, the blast likely would have set off a catastrophic secondary explosion in the fuel tank had the aircraft reached cruising altitude.
The source added that investigators believe the attack was orchestrated by the al Qaeda affiliate Al Shabaab, although they are not certain that Borleh was a direct member of the group. No group immediately took responsibility for the act.
The bomb contained a military grade of the explosive TNT, according to the source, citing an initial analysis of residue recovered from the aircraft.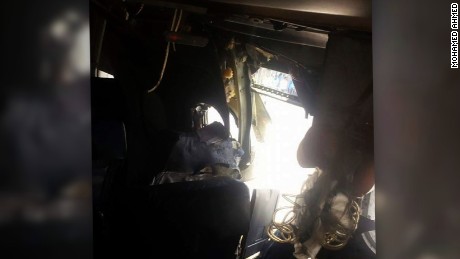 _________________________________________
Please feel free to send if you have any questions regarding this post , you can contact on