Female billionaire dies: Johanna Quandt Dies
Published: August 6, 2015
Female billionaire dies: Johanna Quandt Dies, Johanna Quandt, the billionaire widow whose husband saved Germany's BMW AG from bankruptcy half a century ago and laid the foundations for the company to become the largest maker of luxury cars, has died. She was 89.
She died Aug. 3 at her home in Bad Homburg, Germany, according to an e-mailed statement from the Johanna Quandt Foundation. No cause was given.
The third wife and onetime secretary of Herbert Quandt, Johanna Quandt inherited a 16.7 percent stake in Munich-based BMW, the largest single holding in the company, when her husband died in 1982. Her shareholding in the world's biggest luxury carmaker will remain in the family, foundation spokesman Joerg Appelhans said.
Quandt also owned a stake in Datacard Group, a closely held Minnetonka, Minnesota-based credit-card and passport maker, and held shares in Gemalto NV, a publicly traded security-software designer based in Amsterdam.
"For over 50 years Johanna Quandt has acted for BMW with enthusiasm and passion," BMW Chief Executive Officer Harald Krueger said in a statement. "She gave the company support and stability."
Johanna Quandt's net worth of $11.5 billion ranked 98th in the Bloomberg Billionaires Index and eighth within Germany. BMW has a market value of 60 billion euros ($65.4 billion).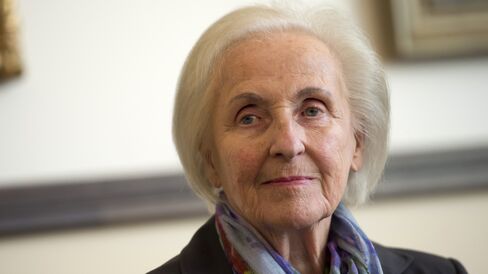 _________________________________________
Please feel free to send if you have any questions regarding this post , you can contact on