Death toll could rise: English Airshow Crash
Published: August 24, 2015
Death toll could rise: English Airshow Crash, Seven people have been killed and a pilot has been left fighting for his life in hospital after a fighter jet taking part in an airshow crashed on to a busy A-road on Saturday afternoon.
Sussex police said the Hawker Hunter hit four cars on the A27 just north of Shoreham airport, where the Royal Air Forces Association airshow was being held.
The South East Coast Ambulance Service NHS Foundation Trust said seven people were declared dead at the scene, while the critically injured pilot was taken to the Royal Sussex County hospital in Brighton.
A further 14 people were treated for minor injuries. Unconfirmed reports said that two cyclists were killed in the crash. One of the vehicles hit was a Daimler regularly used for weddings.
The vintage Hawker Hunter single-seat fighter jet was attempting a loop manoeuvre, but the plane reportedly failed to pull out. One eyewitness said that the pilot did not eject before the plane hit the ground. The wrecked plane came to rest in a bush.
The Hawker Hunter was listed in the airshow programme as being flown by former RAF Harrier pilot Andy "Hilz" Hill, whose day job is as an Airbus captain for a major airline. Hill, who is well known for his aerobatic and airshow display work, is described by those in the industry as "a very experienced formation instructor and display pilot".
Drivers on the A27 at the time of the incident tweeted pictures of the scene:
– Ian Fowler (@ian_wfc) August 22, 2015
A friend was really close. Has lots of pictures. So very sad #Shoreham pic.twitter.com/QvLhynWNyv
Dom Lawson was driving on the A27 when the jet crashed. "If I'd been 20 seconds faster I would not be having this conversation," he said. He described how the plane passed just a few metres above his car with a deafening roar before slamming into the ground in a fireball just five or six vehicles in front. "It was like something out of Die Hard," he added.
Lawson said he saw at least two cars on fire but added the incident could have been much worse if traffic lights at a nearby junction had not been at red.
Lucy Pearce, head of content at the Brighton Argus, was at the airshow. "All of a sudden there were all these gasps and screams and everyone jumped up. Then there was masses of smoke," she told the newspaper.
Thousands of spectators were unable to leave the airport because the A27 was closed. Drivers on the road at the time of the accident tweeted pictures of the scene.
Organisers of the Shoreham airshow tweeted: "There has been a major incident outside the airfield boundary. The emergency services are responding. Updates will follow when available."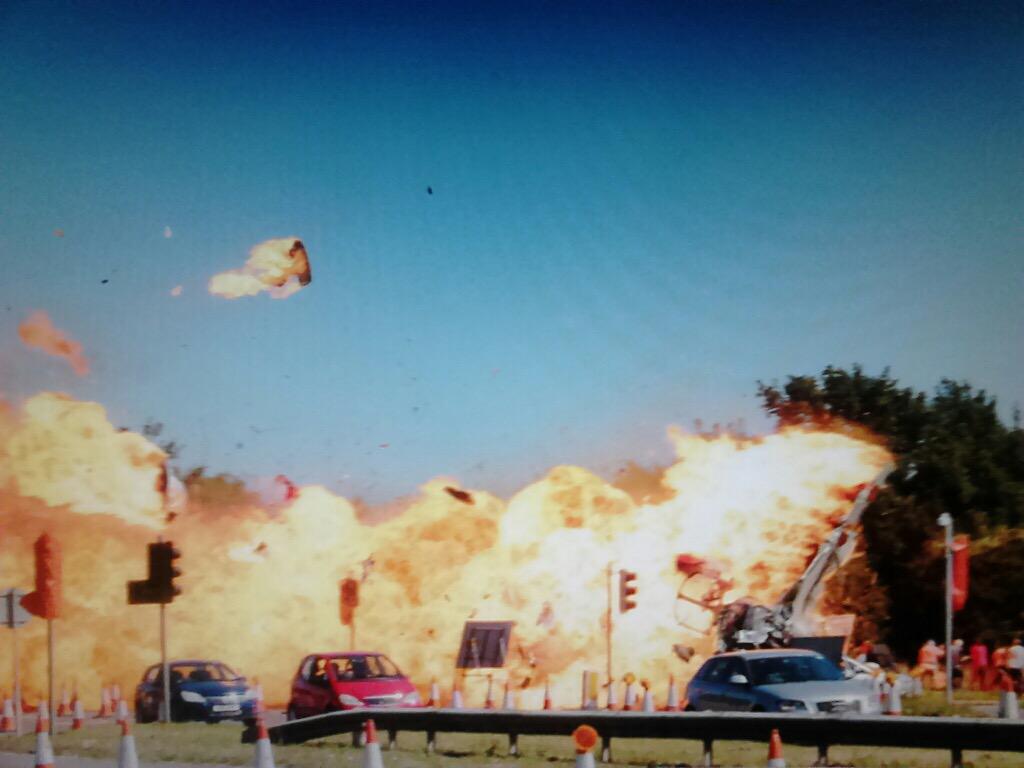 _________________________________________
Please feel free to send if you have any questions regarding this post , you can contact on