David Letterman's Afterparty Outfit
David Letterman's Afterparty Outfit, One more sad consequence of David Letterman ending his show Wednesday night after 33 years on the air? We'll never get to hear what the famously self-deprecating comedian had to say about the truly head-turning outfit he selected for the afterparty.
The talk show host, who was sent off in style by dozens of famous friends (as well as a tear-jerking serenade from the Foo Fighters) joined some of those A-listers at the show's afterparty, deploying a fake limousine so he could sneak out through the theater's adjacent pizza restaurant to get to the Museum of Modern Art.
But despite his notoriously private demeanor, Letterman must have known he'd be pretty hard to miss in the outfit he chose: a pale lemon-yellow tuxedo-style blazer with a shiny cream-colored lapel, worn over a Foo Fighters band tee in a particularly fluorescent shade of yellow. Pinstriped PJ-style pants and lace-up hiking sneakers were the finishing touches. And he looked truly delighted by the entire thing.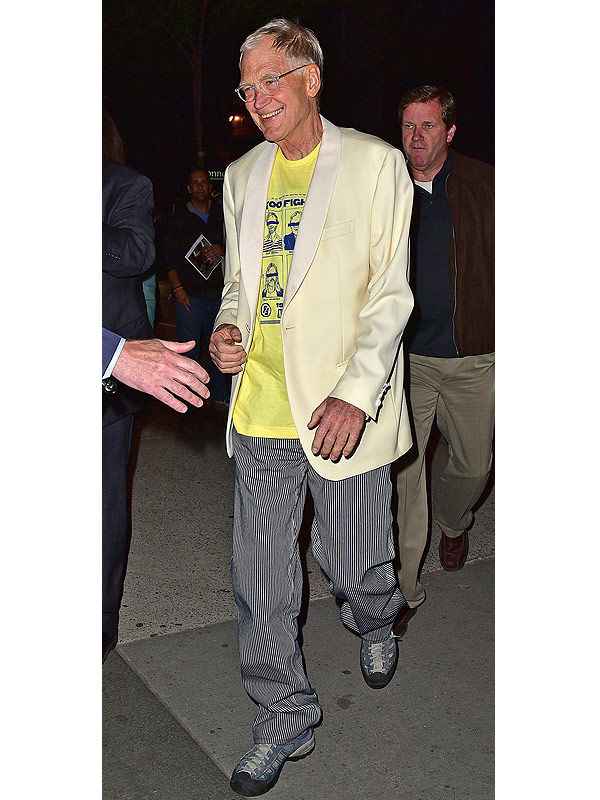 _________________________________________
Please feel free to send if you have any questions regarding this post , you can contact on