Cops: Rally car kills six: Rally Car Wreck Spain
Published: September 8, 2015
Cops: Rally car kills six: Rally Car Wreck Spain, A car veered off course and plowed into the crowd at a rally in northwest Spain, killing six people.
Two pregnant women were among the victims of Saturday's crash, CNN affiliate Atlas TV reported, citing police in A Coruña, Spain. There were at least 16 people injured, including five children, police said. Six people are in serious condition.
The driver and co-pilot were not injured, police said.
Investigators stand beside a damaged rally car near the village of Carlal.
Police are investigating to determine what caused the crash, which happened Saturday evening after a car participating in the rally veered off the road into a crowd of spectators near the finish line, emergency officials said.
The Rally de A Coruña is a part of the Galician Championship and draws thousands of fans to the streets every year, according to CNN partner Bleacher Report. The race was called off after the crash.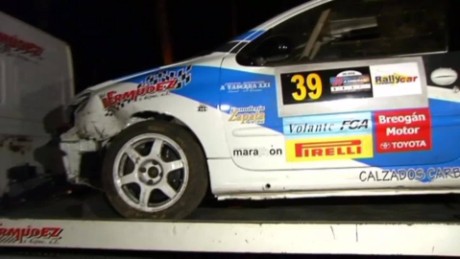 _________________________________________
Please feel free to send if you have any questions regarding this post , you can contact on