College pitcher dies at 21: Zach Farmer Dies
Published: August 5, 2015
College pitcher dies at 21: Zach Farmer Dies, You might have missed it during Randy Johnson's recent Hall of Fame induction speech. The name of Zach Farmer came up after Johnson had thanked the voters, and his family and teammates, after he told anecdotes about his 300th victory and no-hitters. It was right at the end, almost. Here's video of the Farmer snippet (which comes about 17 minutes in), and of Johnson's entire speech.
In closing, I would just like to thank everybody for being here, and my special friends the Wounded Warriors, and also Zach Farmer who I don't know personally, but I called him two days ago. He's dying with leukemia. I was reached by two different people to give him a call. He was an All-American at Ohio State, left-handed pitcher, wanted to talk to me. I called him a couple days ago. He doesn't have long to live.
Zach, I love you. I've never met you before, but hang in there.
Farmer died Tuesday, his school announced. Farmer turned 21 years old July 27, just eight days ago. Good for Randy Johnson, during the busiest week of his life (post-playing), to call him. Farmer packed a lot into his final weeks. On July 19, he married Kelsie Mays, whom he called his best friend. Only days before, his disease had returned after a remission.
Mr. and Mrs. Farmer!!!! pic.twitter.com/4XKNB3Gq8c
— Zach Farmer (@zfarm34) July 20, 2015
Farmer posted a 3.28 ERA with 34 strikeouts in 49 innings over nine starts as a freshman in 2014, before he was diagnosed in late April of that year. He wasn't an "All-American" (Johnson misspoke) but Farmer was "a recipient of CollegeBaseballInsider.com's Tom Walter/Pete Frates College Baseball Inspiration Award."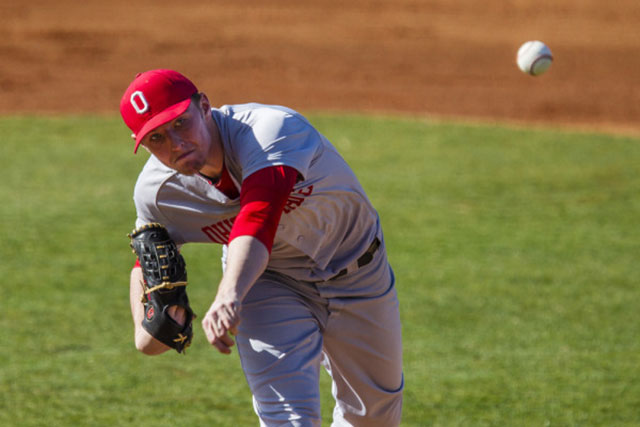 _________________________________________
Please feel free to send if you have any questions regarding this post , you can contact on