Comments Off on Clinton Trump lead: Quinnipiac University Poll Trump Hillary
Clinton Trump lead: Quinnipiac University Poll Trump Hillary, Although Hillary Clinton and Donald Trump lead other 2016 presidential contenders in their respective parties, a Quinnipiac University National poll released Thursday suggests their campaigns could still face challenges.
Forty-three percent of Democrats said they would support the former secretary of state, compared to a quarter who would support U.S. Sen. Bernie Sanders, I-VT, and 18 percent who would back Vice President Joe Biden, the poll found.
Despite support for the former first lady among Democrats, Clinton would essentially tie businesswoman and Republican presidential hopeful Carly Fiorina in a head-to-head contest with each receiving a respective 43 and 44 percent of the vote.
Clinton would trail retired neurosurgeon Ben Carson 49 to 42 percent. She would get 42 to 44 percent against former Florida Gov. Jeb Bush and 45 to 43 percent of the vote against Trump.
Biden, who has yet to officially announce a White House bid, fared better, getting 46 percent to Fiorina's 43 percent of the vote and beating Bush and Trump, by respective margins of 46 to 41 percent and 51 to 40 percent, the poll found. He would tie Carson 45 to 45 percent in a head-to-head matchup.
While survey respondents said they believe Fiorina out-performed Trump in the most recent Republican presidential debate by a 4 to 1 margin, the businessman continued to lead GOP candidates with a quarter of the vote.
Carson followed with 17 percent of the vote, compared to Fiorina with 12 percent and Bush with 10 percent, according to the poll.
Nearly a third of GOP voters, however, said they would "definitely not support" Trump. Just 11 percent of Democrats said they wouldn't support Clinton.
Tim Malloy, assistant director of the Quinnipiac University Poll, said despite the changing roles of Republican presidential candidates, Trump remains in the "the lead role."
"But when the number of Republicans who 'would definitely not support you' is greater than the number who support you, where does that leave you?" he said in a statement. "Welcome to Trump World, comparing his fragile support from his own party to Hillary Clinton's sagging but still stronger support from her party."
Quinnipiac University surveyed more than 1,500 registered voters via land line and cell phones nationwide from Sept. 17-21. The poll has a margin of error of plus or minus 2.5 percentage points. It includes more than 700 Republicans, with a margin of error of plus or minus 3.6 percentage points, and nearly 600 Democrats, with a margin of error of plus or minus 4 percentage points.
Comments Off on WWE Night Of Champions 2015
WWE Night Of Champions 2015, The city of Houston hosted WWE's Night of Champions pay-per-view on Sunday and a card that looked solid on paper more than delivered. Two titles changed hands, there were some surprise returns and the world champion wrestled for the better part of an hour in two back-to-back classic matches.
Let's find out everything that happened and where things stand after Sunday night's PPV.
Cosmic Wasteland (Stardust & The Ascension) def. Neville & Lucha Dragons
The new supervillains of the WWE picked up the win when Stardust hit the Queen's Crossbow on Neville after The Ascension broke up Neville's Red Arrow attempt.
Somehow I didn't notice this until Sunday, Stardust's finisher is now/still called the Queen's Crossbow, which is a clear jab at Stephen Amell and his Arrow character. That's a fun and subtle way of keeping that feud alive in the background.
Meanwhile, this is a big win for Cosmic Wasteland and a great first step toward legitimacy for this extremely neat stable with nearly limitless potential. Meanwhile, Neville and Lucha Dragons don't look any worse for taking the loss. Just great stuff all around.
WWE Intercontinental Championship Match: Kevin Owens def. Ryback (c)
Owens targeted Ryback's shoulder and elbow throughout the match, leaving the champion unable to hit his finisher. When Ryback attempted the Shell Shocked a second time, Owens raked the eyes and then rolled him up to win his first main-roster WWE championship.
Kevin Owens is still awesome. He can work great matches with pretty much everyone on the roster and makes everyone involved look better as a result. Plus, the live crowd continues to get more and more into him.
This is the way Ryback's first singles title reign ends. It's probably the right move. Now Owens can set about continuing to try to raise the prestige of the championship while Ryback and people like Cesaro and Neville try to chase him. Things are only looking up.
Dolph Ziggler def. Rusev
When Summer Rae was ejected from ringside, she threw her shoes in frustration. One of them hit Rusev, allowing Ziggler to hit the Zig Zag for the win.
Ziggler debuted new tights that featured Lana's face over his … uh, crotch. Rusev also left without Summer Rae, indicating he's as fed up with this storyline as the rest of us.
The door is still open for Summer and Dolph to be revealed as being in cahoots, which may lead to a long-suggested (actual) heel turn. Depending on how this shakes out on RAW Monday night, this feud is either finally over or we're going to have a brand-new dynamic in it.
(It's probably over.)
WWE Tag Team Championship Match: The Dudley Boyz def. The New Day (c) by disqualification
The Dudleys won the match, but fell short of winning their 10th WWE tag championship. They hit the 3D, but Xavier Woods broke up the pinfall, drawing the disqualification.
The New Day are still the greatest act in the entire WWE, possibly in all of wrestling. They managed to re-solidify themselves as blatant heels by name-dropping Barack Obama in Texas (!), being obnoxious as usual, cheating to retain their titles and then proving themselves #SaveTheTables hypocrites by trying to put the DUDLEYS through a table after the match was over.
The feud will continue as the Dudleys seek justice. This is likely leading to either a tables or TLC match, or some other big spectacle. Either way, as long as The New Day is on television, all is right with the world.
WWE Divas Championship Match: Charlotte def. Nikki Bella (c)
The second title of the night changed hands when Charlotte forced Nikki Bella to tap to the Figure Eight, ending Nikki's 301-day reign as Divas Champion.
This was a phenomenal match and a great next step in the polarizing Divas Revolution. One of the best main-roster matches in WWE in quite some time. Charlotte now gets to help usher in the next era of the Divas Championship, likely facing Sasha Banks and perhaps her own teammates in Team PCB when her feud with Nikki has run its course. (A rematch with Nikki is likely for Hell in a Cell next month.)
The Wyatt Family (Bray Wyatt, Luke Harper & Braun Strowman) def. Roman Reigns, Dean Ambrose & Chris Jericho
Ambrose and Reigns' special "mystery partner" turned out to be the once-again-returning Chris Jericho, but he couldn't help his team overcome the Wyatts. The finish of the match involved Jericho tagging himself in, but getting caught and put to sleep by the monstrous Braun Strowman.
The good guys still have no answer for Strowman, the black sheep of the Wyatt Family. The Reigns/Ambrose feud with the Wyatts may continue, but the larger question is who can go toe-to-toe with Strowman?
As for Jericho, he refused Ambrose and Reigns' solidarity handshake following the match, so a return of heel Jericho (or perhaps even a retirement run) may be in the offing.
WWE United States Championship Match: John Cena def. Seth Rollins (c)
In the first of Rollins' two title defenses at Night of Champions, he and Cena had another classic match in their burgeoning rivalry. Cena was ultimately able to hit an Attitude Adjustment to regain his U.S. title.
Regardless of your opinion of him, Cena remains the best and hardest-working professional wrestler of the year. Second place isn't particularly close. Cena will now go back to issuing his weekly U.S. Open challenge, which will continue to be amazing.
WWE World Heavyweight Championship Match: Seth Rollins (c) def. Sting
Rollins attempted to plead injury and leave with the belt following his match against Cena, but Cena hit another AA on the floor and rolled Rollins into the ring to wait for Sting.
After another great match with lots of intense and terrifying bumps from Sting, he appeared to be legitimately injured, but managed to lock in the Scorpion Deathlock, which was countered into a rollup for Rollins to retain.
Following the match, Sheamus ran out and Brogue Kicked Rollins, then attempted to cash in his Money in the Bank Briefcase, but was interrupted by the returning Kane (once again wearing his trademark mask). Sheamus tried to use this to his advantage, urging Kane to pummel Rollins, but Kane chokeslammed Sheamus before hitting Rollins with a Tombstone Piledriver, meaning there was no cash-in from Sheamus.
Rollins managed to survive both Cena and Sting in the same night, losing only the less-important of his championships. Now the returning Kane has a bone to pick with Rollins (and likely the Authority) with Sheamus lurking in the background.
Sting will probably take another sabbatical following this match, but he certainly earned it. What performances from Sting and Rollins, who wrestled two punishing and wonderful matches back-to-back to cap off a terrific show.
We'll have to tune in to RAW on Monday to find out where we're actually going from here, but we seem to have a pretty good idea after Night of Champions.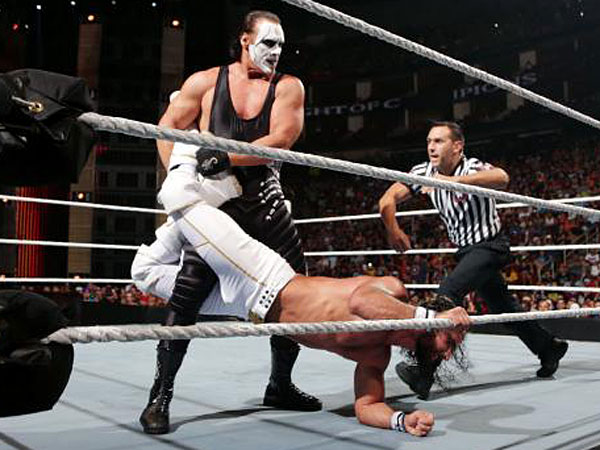 Comments Off on 'SNL' picks new Trump: Taran Killam Donald Trump
'SNL' picks new Trump: Taran Killam Donald Trump, Sorry, Darrell Hammond – you're fired.OK, that's an exaggeration. Saturday Night Live has, however, chosen a new comedian to play controversial GOP candidate Donald Trump on its upcoming 40th season: veteran cast member Taran Killam, according to Deadline.
For a full decade, former Saturday Night Live cast member Hammond counted Donald Trump among his impressive stable of impressions. And though Hammond left SNL in 2009 after a record 14 seasons, that hasn't stopped him from making frequent guest appearances. He has brought back his well-received takes on Sean Connery, Bill Clinton and, yes, Trump in the years since. In 2014, Hammond also took on a new role as Saturday Night Live's announcer, replacing the late Don Pardo.
Given Trump's current spot at the top of the Republican polls, it seemed logical to assume that Hammond would step into Trump's yooge, very expensive shoes once again this fall.
Comments Off on Tiger Woods out: Tiger Woods Golf
Tiger Woods out: Tiger Woods Golf, News of Tiger Woods undergoing a second surgery on his troublesome back caught his colleagues by surprise.
Reading that Woods vowed to return to the PGA Tour instead of cruising off into the sunset aboard his yacht named "Privacy" didn't surprise anyone.
"As a competitor, you want to go out on your own terms," Billy Horschel said Saturday before the third round of the BMW Championship at Conway Farms Golf Club. "He wants to go out on his own terms where he gave it his best shot. He knows he can still compete and everyone out here knows he can still compete with the best of us.
"That's what pushes him."
Woods, 39, who has played only 18 events since the start of 2014 and had microdiscectomy surgery on his back March 31 of last year, announced Friday via his website he had a second microdiscectomy surgery on his back on Wednesday to remove a small disk fragment that was pinching a nerve.
Woods said he was hopeful for a return in "early 2016."
Woods said he felt discomfort in his back and hip during the Wyndham Championship last month, where he got into contention and finished in a tie for 10th. It was a rare good showing for the former world No. 1, who has 79 PGA Tour titles, including 14 majors, but hasn't won since the 2013 WGC-Bridgestone Invitational and is ranked No. 283.
"He needs to get healthy," Horschel said. "This game needs him. Everyone in the game knows he's the biggest draw in the game."
For instance, at the Wyndham Championship in Greensboro, N.C. – Woods' last event – tournament officials said attendance reached 145,000 for the week to set a modern tournament record. Sales of concessions and clothing were up 40 to 50%. TV ratings climbed, too – Saturday's 3.2 rating on CBS was 220% higher compared to 2014; Sunday's 3.9 was 160% higher.
"I hope this is the last of it. We all want him back healthy and playing well and playing a lot and hopefully this is the start of it," Zach Johnson said. "He's a competitor first and he just loves being in it and that's what we all play for. I do really like the game of golf. I honestly don't know if I love it like I once did but I love the competition and I think that's how Tiger feels.
"Knowing Tiger and what he has done on the golf course, that's what fuels him. That's what drives him to get back out here at his best."
Rickie Fowler and Woods participated in a Q&A with sponsors and fans at the Deutsche Bank Championship, the second leg of the FedExCup Playoffs. Woods, who didn't qualify for the postseason, was there because the tournament benefits his foundation.
"I knew he hasn't been 100%. Hopefully everything is cleaned up and he continues to move forward and this is another step in the process for him to get as healthy as possible. He still has some pretty good years left," Fowler said. "In the Q&A, he talked about being in contention at the Wyndham and said it was cool to be back in that position and get those juices flowing again.
"He loves to be in contention against the best players in the world and ultimately he wants to get back to winning and he's going to do whatever it takes to do that."
Comments Off on 2 Patriots employees implicated in 'Deflategate' reinstated by NFL: 2 Patriots Employees Reinstated By NFL
2 Patriots employees implicated in 'Deflategate' reinstated by NFL: 2 Patriots Employees Reinstated By NFL, The NFL said the New England Patriots can reinstate the two employees at the center of what a league investigation found was a scheme to use improperly inflated footballs in the AFC championship game.
Equipment assistant John Jastremski and officials locker room attendant Jim McNally were reinstated Wednesday after the team requested they be allowed to return.
"The Patriots have satisfied the league's requirements for reinstatement and the league has granted permission for the employees to return," the league said in a statement.
The NFL launched a months-long, multimillion dollar investigation after finding the footballs supplied by the Patriots for the AFC title game against Indianapolis were inflated below the league minimum. In one of the more damning pieces of evidence, McNally referred to himself as "the deflator."
In its report, the league said it was more probable than not that McNally and Jastremski "participated in a deliberate effort to release air from Patriots game balls after the balls were examined by the referee." The report also found that Brady "was at least generally aware" of the scheme.
The Patriots have insisted that neither they nor their employees did anything improper in the scandal that came to be known as "Deflategate." But NFL Commissioner Roger Goodell fined the Patriots $1 million and took away two draft picks, including a first-rounder, and suspended Brady four games.
Brady's suspension was vacated by a federal judge, who ruled that it exceeded the penalty allowed by the collective bargaining agreement. The NFL has appealed.
The Patriots suspended McNally and Jastremski, and the league said they must apply before the two employees could be reinstated and could not return to their former responsibilities. The team confirmed last week that it had applied for reinstatement.
Patriots spokesman Stacey James would not elaborate on what role McNally and Jastremski would have for the team.
Comments Off on Sister act: Serena Williams Venus Williams
Sister act: Serena Williams Venus Williams, Serena and Venus Williams describe how they will approach playing each other in the quarterfinals of the US Open.
When Serena Williams plays Venus Williams on Tuesday at 7 p.m. in the quarterfinals of the US Open, one number will loom larger than any other: 26. Serena will be going for her 26th straight win in 2015 majors to keep her hopes for a calendar Grand Slam — the first since Steffi Graf did it in 1988 — alive. It takes 28.
And for any number of reasons, it's not going to be easy against her sister.
"She's a player that knows how to win, knows how to beat me and knows my weaknesses better than anyone," Serena said.
Serena Williams
Venus Williams
33
Age 35
Age
736-122
Career record 698-190
Career record
284-39
Career record at majors 232-60
Career record at majors
83-9
Career US Open record 69-14
Career US Open record
69
Career titles 46
Career titles
21
Career singles majors 7
Career singles majors
6
Career US Open singles titles 2
Career US Open singles titles
52-2
2015 record 28-10
2015 record
5
2015 titles 1
2015 titles
1
Sets lost at 2015 US Open 2
Sets lost at 2015 US Open
15
Head to head wins 11
Head to head wins
8
Head to head wins in majors 5
Head to head wins in majors
2
Head to head wins at US Open 2
Head to head wins at US Open
1
Head to head wins in 2015 0
Head to head wins in 2015
1
Head to head major wins in 2015 0
Head to head major wins in 2015
33
Age 35
Age
736-122
Career record 698-190
Career record
284-39
Career record at majors 232-60
Career record at majors
83-9
Career US Open record 69-14
Career US Open record
69
Career titles 46
Career titles
21
Career singles majors 7
Career singles majors
6
Career US Open singles titles 2
Career US Open singles titles
52-2
2015 record 28-10
2015 record
5
2015 titles 1
2015 titles
1
Sets lost at 2015 US Open 2
Sets lost at 2015 US Open
15
Head to head wins 11
Head to head wins
8
Head to head wins in majors 5
Head to head wins in majors
2
Head to head wins at US Open 2
Head to head wins at US Open
1
Head to head wins in 2015 0
Head to head wins in 2015
1
Head to head major wins in 2015 0
Head to head major wins in 2015