Comments Off on Barbie Body Types: New Barbie Body Types
Barbie Body Types: New Barbie Body Types, Barbie's got a brand new bod. Mattel, the maker of the iconic plastic doll, said it will begin selling Barbie in three new body types – curvy, tall, and petite. She'll also be available in seven skin tones, 22 eye colours and 24 hairstyles.
The El Segundo, California, toy company will also continue to sell the original Barbie. The new options come after years of criticism that Barbie had created unrealistic expectations for women.
Sales of Barbie dolls have been sliding as girls turn their attention to tablets and other toys, falling 4 per cent from the previous year in the most recent quarter for Mattel.
Even before Thursday, however, Barbie has been changing. New skin tones and looks were added last year. And Barbie's foot was movable for the first time, allowing her to kick her heels off and wear flats.
Dolls with the new bodies are available for preorder at shop.mattel.com, and will ship in February. They will hit start to show up on U.S. store shelves in March and roll in the rest of the world after that, Mattel Inc. said.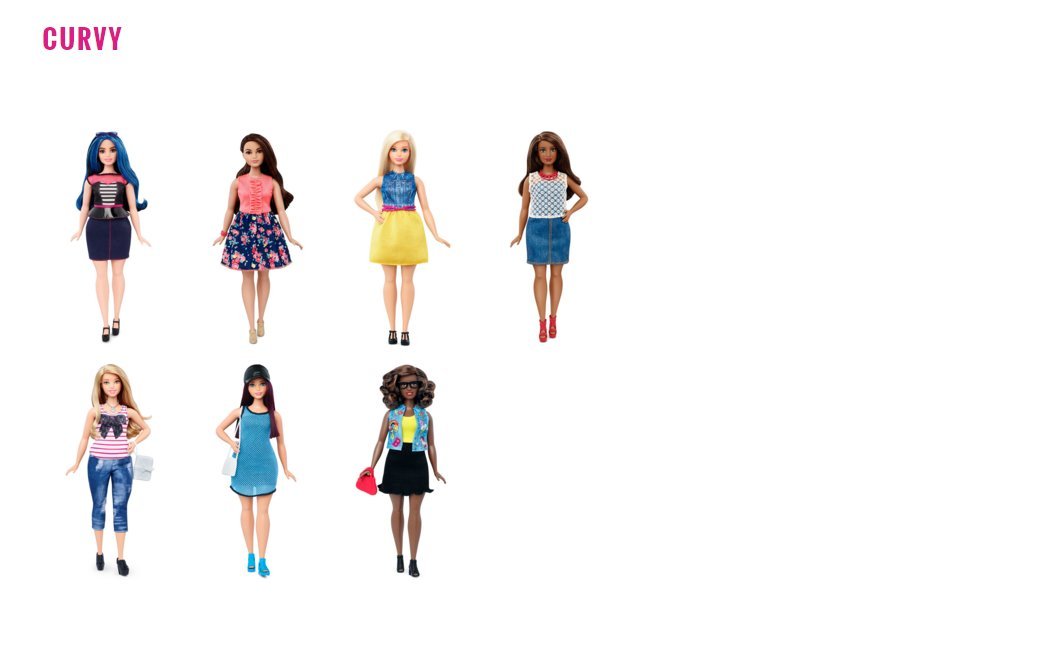 Comments Off on Kylie wears duct tape?: Kylie Jenner Duct Tape
Kylie wears duct tape?: Kylie Jenner Duct Tape, The 17-year-old Keeping Up with the Kardashians star attended the Sugar Factory opening at Hotel Victor in Miami on Friday night and wore a black dress with a plunging neckline that showed off her large cleavage.
However, when rumours of breast implants began to circulate she took to Snapchat to post a video showing she had used duct tape to push her breasts together.
"To whoever thinks I have breast implants, there's a whole lot of tape in here to hold these up," she said as she pulled back her dress to show the tape.
Kylie has been fielding a lot of speculation about her looks recently. Initially she had denied inflating her full lips with anything other than lipliner. However, she recently came clean about having had lip injections.
Her sister Khloe broached the subject on KUWTK, "Kylie decided to plump her lips and I don't think there is anything wrong with that. I think if you've done something though, it is right to cop up to it. If you avoid the question you're gonna look like a liar."
Comments Off on Lambert's Grammys Look Her Best Ever?
Lambert's Grammys Look Her Best Ever?, Miranda Lambert accentuates her new, slimmer silhouette in a plunging red gown on music's big night., 2014 Grammy Awards Red Carpet Arrivals,
Stars arrive at the 56th Annual Grammy Awards at Staples Center in Los Angeles on January 26, 2014. Tune in to ca.music.yahoo.com for complete coverage of the Grammy Awards.
Comments Off on Hot '80s Fashion Trend Is Really Back
Hot '80s Fashion Trend Is Really Back, Wearing this item used to make you seem demure, but today it's big and bold. Late Olympian and actress Sonja Henie once said, "Jewelry takes people's minds off your wrinkles."
Well, if that's true, this season's Olympic-sized statement necklaces will definitely do the trick. From floral accents and multicolored gemstones to layered pearls and bib necklaces, women are transforming their wardrobes with a single accessory.
I caught up with celebrity stylist June Ambrose for some tips on how to make the strongest statement without turning a fashion "Do" into a fashion "Don't."
She says the key is to keep your outfit simple and let the statement necklace speak for itself. Pair your layered, chunky strands of colorful beads, chains and pearls with simple neutral clothing like a T-shirt or sheath dress. In other words, give your bling a clean slate to shine without distraction.
June recommends keeping your hairstyle simple as well, pulling it back to allow the necklace to take center stage. And resist the temptation to add accent pieces–no earrings or bracelets required.
The best thing about this trend is that statement necklaces will match any budget beautifully. At stores like Forever 21 and H&M you can snag pieces for under $20. If you are looking to invest a little more, you'll find a wide range of necklaces at J.Crew or from Stella & Dot in the $150 to $200 range. For a splurge, indulge with a Henri Bendel or Chan Luu necklace, which cost anywhere from $200-$600.
Comments Off on Drew Barrymore Wedding Dress Shop
Drew Barrymore Wedding Dress Shop, The video is chilling, but it's also a sign of the times.
"Your First Amendment rights can be terminated," yells the Chicago police officer, caught on video right before arresting two journalists outside a Chicago hospital. One, an NBC News photographer, was led away in handcuffs essentially for taking pictures in a public place. He was released only minutes later, but the damage was done. Chicago cops suffered an embarrassing "caught on tape" moment, and civil rights experts who say cops are unfairly cracking down on citizens with cameras had their iconic moment.
Tales of reporters, protestors and citizen journalists being threatened or arrested for filming law enforcement officials during disputes are on the rise, critics say, with Occupy Wall Street protests a lightning rod for these incidents. The National Press Photographers Association claims it has documented 70 such arrests since September and, in May, called on U.S. Attorney General Eric Holder to focus attention on the issue. (MSNBC)
Comments Off on Girl Barred Photos Hairstyle
Girl Barred Photos Hairstyle, We used to get totally psyched over picture day at school. Then again, we were never banned from our own school photos like this little girl from Kent, England.
Marcella Marino, a four-year-old student, was told she could not participate in her school's picture day because of her Lady Gaga-like hairstyle. Her father, Marcello Marino, a professional hairstylist and salon owner, gave his daughter the playful look because she wanted to look like a "princess," according to the Daily Mail.
But Marino was told that her hair violated the school policy against braided hair and that it would not be permitted for class pictures (or on any other school day, for that matter).
"All the children were told to look smart for the day and that's why I decided to make a special effort, but in the end it has just caused tears," Marcello told the Daily Mail. "I am so disappointed."
Just seeing the photo of little Marcella gets the point across pretty clearly. "Look how sad she is," commented Dr. Nancy Snyderman on the "Today" show. "I think the school overstepped its bounds." As The Frisky noted, "It's not like she chose to follow some of Gaga's other fashion trends, like say, her meat dress, or radical platform heels, after all. It's a hair bow, people." (Huffington Post)