Comments Off on This is How Often You Really Need To Shower

This is How Often You Really Need To Shower, My cosmetologist told me several years back that I should stop showering every day, or at least I should quit washing my hair every day, because it wreaks havoc on both the health of my hair and the color processing I have done on my hair.
I also struggle with abnormally dry skin and I occasionally have keratosis pilaris, otherwise known as "chicken skin," on the backs of my upper arms. My doctor told me that showering daily was exacerbating my skin problems. He also told me to quit using shower gel and a loofah to scrub all of my skin. Instead, he recommended that I only use soap in my armpits, groin and buttocks area – that's it.
Although I continue to shower each day (sorry, doc), I have cut down on my use of soap and it really has helped keep my skin from drying out, though I still use lotion. It's also cut down on my shower time and water usage.
This begs the question: How often should we be showering? Daily? Every other day?
There seems to be no hard and fast answer.
"Depending on your activity level, you may need to shower daily, for instance if you have a labor-intensive job or if you exercise for over an hour every day," dermatologist David E. Bank, director of the Center for Dermatology in Mount Kisco, New York, told Glamour.
Bank says showering every other day or three times a week is plenty for most people to stay clean.
"By showering every other day you are able to help maintain your skin's natural oils and make the skin softer and less irritated by hot showers," he says, adding that the oils in your skin can help protect it against harmful bacteria.
Author Robert Brumm wrote last year in this blog post that although he hops in the shower daily, he has completely stopped using soap and shampoo. Instead, Brumm cleans his hair and body by using "hot water, a wash cloth, and good ol' friction."
If you think that sounds a little weird or gross, Brumm says based on his experience you couldn't be more wrong.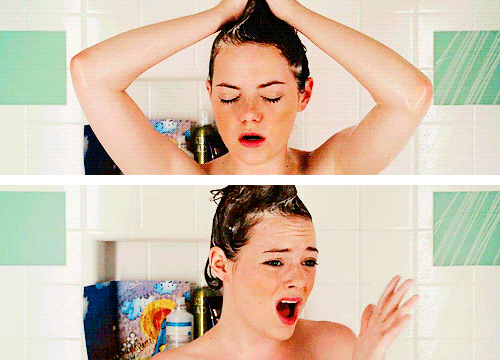 Comments Off on Outrage As Bikini-Clad Women Cool Off In 17th Century Fountain

Outrage As Bikini-Clad Women Cool Off In 17th Century Fountain, Residents of Rome have reacted angrily after three women stripped down to their swimsuits to cool off in one of the city's historic fountains.
The women, two of whom were wearing bikinis and the third in a one-piece swimsuit, are believed to have been tourists.
With temperatures hitting 90F (32C) the women thought the best way to cool off was to frolic under the jets of water in the 400-year old Fontana dell'Acqua Paola in Rome.
It dates back to 1612 and was featured in the opening scenes of Paolo Sorrentino's Oscar-winning film "The Great Beauty".
The city's extensive network of baroque fountains are cherished by Romans as some of the architectural highlights of the Italian capital.
Anyone leaping into the fountains faces a fine of up to 200 Euros (£170).
Comments Off on Muhammad Ali Dies
Muhammad Ali Dies, Muhammad Ali, the charismatic three-time heavyweight boxing champion of the world, who declared himself "the greatest" and proved it with his fists, the force of his personality and his magnetic charisma, and who transcended the world of sports to become a symbol of the antiwar movement of the 1960s and a global ambassador for cross-cultural understanding, died June 3 at a hospital in Scottsdale, Ariz., where he was living. He was 74.
His family released a statement confirming his death. The boxer had been hospitalized with respiratory problems related to Parkinson's disease, which had been diagnosed in the 1980s.
Mr. Ali dominated boxing in the 1960s and 1970s and held the heavyweight title three times. His fights were among the most memorable and spectacular in history, but he quickly became at least as well known for his colorful personality, his showy antics in the ring and his standing as the country's most visible member of the Nation of Islam.
When he claimed the heavyweight championship in 1964, with a surprising upset of the formidable Sonny Liston, Mr. Ali was known by his name at birth, Cassius Clay. The next day, he announced that he was a member of the Nation of Islam, a move considered shocking at the time, especially for an athlete. He soon changed his name to Muhammad Ali.
"I know where I'm going and I know the truth, and I don't have to be what you want me to be," he said at the time, signaling his intent to define his career on his own terms. "I'm free to be what I want."
Mr. Ali came to represent a new kind of athlete, someone who created his own style in defiance of the traditions of the past. Glib, handsome and unpredictable, he was perfectly suited to television, and he became a fixture on talk shows as well as sports programs.
He often spoke in rhyme, using it to belittle his opponents and embellish his own abilities. "This is the legend of Cassius Clay, the most beautiful fighter in the world today," he said before his 1964 title bout. "The brash young boxer is something to see, and the heavyweight championship is his destiny."
One of his assistants, Drew "Bundini" Brown, captured his lithe, graceful presence in the ring, saying Mr. Ali would "float like a butterfly, sting like a bee." The description entered the vernacular.
A funeral for Mr. Ali will be held in his hometown of Louisville, Kentucky, according to The Associated Press. City officials scheduled a memorial service Saturday.
Mr. Ali appealed to people of every race, religion and background, but during the turbulent, divisive 1960s, he was particularly seen as a champion of African Americans and young people. Malcolm X, who recruited Mr. Ali to the Nation of Islam, once anointed him "the black man's hero."
Comments Off on Bruce Springsteen The River: Announces Tour Plans
Bruce Springsteen The River: Announces Tour Plans, The last time Bruce Springsteen and the E Street Band were in Dallas, it was for a one-off performance at Reunion Tower during the NCAA March Madness festivities back in 2014. As usual, The Boss put on a killer show, although the novelty of having it at Reunion was dampened some by the chilly, rainy weather. That shouldn't be a concern this time around, though, as Springsteen is set to return to Dallas two years almost to the day for a visit to American Airlines Center on April 5.
Springsteen and co. are on the road celebrating the 35th anniversary of their classic double-LP, The River, which is being commemorated with a massive four-CD, 52-song box set dubbed The Tie That Binds and an accompanying U.S. tour. Plans for the tour were first announced last week, but the dates only came out this morning. Dallas, it turns up, will be the final stop on the 23-date tour. There will be a a more than two-week break between it and the prior tour stop, but chances are he and the band should be in fine form by the time they hit town.
Tickets to see Springsteen and the E Street Band go on sale this Saturday, January 30, at 10 a.m. at ticketmaster.com.
The full list of The River Tour dates:
January 24 & 27 New York, NY Madison Square Garden
January 29 Washington, DC Verizon Center
January 31 Newark, NJ Prudential Center
February 2 Toronto, ON Air Canada Centre
February 4 Boston, MA TD Garden
February 8 Albany, NY Times Union Center
February 10 Hartford, CT XL Center
February 12 Philadelphia, PA Wells Fargo Center
February 16 Sunrise, FL BB&T Center
February 18 Atlanta, GA Philips Arena
February 21 Louisville, KY KFC Yum! Center
February 23 Cleveland, OH Quicken Loans Arena
February 25 Buffalo, NY First Niagara Center
February 27 Rochester, NY Blue Cross Arena
February 29 St Paul, MN Xcel Energy Center
March 3 Milwaukee, WI BMO Harris Bradley Center
March 6 St Louis, MO Chaifetz Arena
March 10 Phoenix, AZ Talking Stick Resort Arena
March 13 Oakland, CA Oracle Arena
March 15 & 17 Los Angeles, CA Los Angeles Memorial Sports Arena
April 5 Dallas, TX American Airlines Center
Comments Off on Jerry Bruckheimer: 'Top Gun 2' Teased
Jerry Bruckheimer: 'Top Gun 2' Teased, One of the biggest box office hits of the past few decades never to have had a sequel is Top Gun. Despite its massive success and a star-making turn from Tom Cruise, a second movie has never been made–however, a new tweet from super-producer Jerry Bruckheimer has raised hopes that we may yet see Top Gun 2. Check it out below:
Just got back from a weekend in New Orleans to see my old friend @TomCruise and discuss a little Top Gun 2. pic.twitter.com/vA2xK7S7JS
– JERRY BRUCKS-EX-IMER (@BRUCKS-EX-IMERJB) January 26, 2016
Bruckheimer was one of the producers of the original movie, alongside the late, legendary Don Simpson. The film was one of several blockbusters that the pair made throughout the '80s and '90s–other hits include Flashdance, Beverly Hills Cop, Days of Thunder, and The Rock.
A second Top Gun has been in development for some time. Last summer it was confirmed by David Ellison, chief executive of production company Skydance, that a script was being worked on, and that Cruise would return to the role of Maverick.
"Justin Marks is writing the screenplay right now," he said, as reported by Collider. "He has a phenomenal take to really update that world for what fighter pilots in the Navy has turned into today.
"There is an amazing role for Maverick in the movie and there is no Top Gun without Maverick, and it is going to be Maverick playing Maverick. It is, I don't think, what people are going to expect, and we are very, very hopeful that we get to make the movie very soon."
Top Gun was released in May 1986. It went on become the biggest grossing film of that year, earning $353 million worldwide from a budget of just $15 million.
Comments Off on Rihanna Anti: Rihanna Drops 'Anti'
Rihanna Anti: Rihanna Drops 'Anti', Over the course of Rihanna's career, fans have been kept rather spoiled. Rihanna has released a commercially successful album nearly every single year since 2005's Music of the Sun — Anti marks the longest time the 27-year-old has waited to release a new album. That wait, however, could be coming to an end.
Billboard reported Tuesday that Rihanna could be planning to release the highly anticipated album before Friday, noting her world tour beginning in February and a single remaining room in the extensive #ANTIdiaRy campaign RiRi used to promote the album.
Furthermore, Rihanna is becoming active again across social media after a bout of silence in anticipation of Anti. Rihanna dropped a fire selfie Monday morning on Twitter, writing she was "listening to Anti," hinting at the imminent release of her eighth studio album.
Rihanna could be releasing 'Anti' within a few days, multiple sources are reportingSource: Mic/Twitter
Though a rumored release date should always be taken with a grain of salt in the ever-surprising music industry, recent reports of a new Rihanna single featuring an OVO member arriving Wednesday morning were correct. RiRi and Drake lit up international radio stations Wednesday with the easy hit and dancehall/hip-hop jam "Work," which she referred to as Anti's "first single" on Twitter.
That alone left fans wondering what's next for Anti — will "Bitch Better Have My Money," Rihanna's previous single, and her biggest hit of 2015, be featured on Anti? How about "FourFiveSeconds," featuring Paul McCartney and Kanye West, who is also promoting the release of new music?
listening to ANTI pic.twitter.com/AgqlhU0GEz
https://pbs.twimg.com/media/CZknUtIUcAMJb80:large
While Rihanna is listening to her forthcoming album in a pair of $9,000 Dolce & Gabanna headphones, the world continues to await a new album. Whether Anti will be released before Friday, however, is anyone's guess.