Comments Off on Outrage As Bikini-Clad Women Cool Off In 17th Century Fountain

Outrage As Bikini-Clad Women Cool Off In 17th Century Fountain, Residents of Rome have reacted angrily after three women stripped down to their swimsuits to cool off in one of the city's historic fountains.
The women, two of whom were wearing bikinis and the third in a one-piece swimsuit, are believed to have been tourists.
With temperatures hitting 90F (32C) the women thought the best way to cool off was to frolic under the jets of water in the 400-year old Fontana dell'Acqua Paola in Rome.
It dates back to 1612 and was featured in the opening scenes of Paolo Sorrentino's Oscar-winning film "The Great Beauty".
The city's extensive network of baroque fountains are cherished by Romans as some of the architectural highlights of the Italian capital.
Anyone leaping into the fountains faces a fine of up to 200 Euros (£170).
Comments Off on Muhammad Ali Dies
Muhammad Ali Dies, Muhammad Ali, the charismatic three-time heavyweight boxing champion of the world, who declared himself "the greatest" and proved it with his fists, the force of his personality and his magnetic charisma, and who transcended the world of sports to become a symbol of the antiwar movement of the 1960s and a global ambassador for cross-cultural understanding, died June 3 at a hospital in Scottsdale, Ariz., where he was living. He was 74.
His family released a statement confirming his death. The boxer had been hospitalized with respiratory problems related to Parkinson's disease, which had been diagnosed in the 1980s.
Mr. Ali dominated boxing in the 1960s and 1970s and held the heavyweight title three times. His fights were among the most memorable and spectacular in history, but he quickly became at least as well known for his colorful personality, his showy antics in the ring and his standing as the country's most visible member of the Nation of Islam.
When he claimed the heavyweight championship in 1964, with a surprising upset of the formidable Sonny Liston, Mr. Ali was known by his name at birth, Cassius Clay. The next day, he announced that he was a member of the Nation of Islam, a move considered shocking at the time, especially for an athlete. He soon changed his name to Muhammad Ali.
"I know where I'm going and I know the truth, and I don't have to be what you want me to be," he said at the time, signaling his intent to define his career on his own terms. "I'm free to be what I want."
Mr. Ali came to represent a new kind of athlete, someone who created his own style in defiance of the traditions of the past. Glib, handsome and unpredictable, he was perfectly suited to television, and he became a fixture on talk shows as well as sports programs.
He often spoke in rhyme, using it to belittle his opponents and embellish his own abilities. "This is the legend of Cassius Clay, the most beautiful fighter in the world today," he said before his 1964 title bout. "The brash young boxer is something to see, and the heavyweight championship is his destiny."
One of his assistants, Drew "Bundini" Brown, captured his lithe, graceful presence in the ring, saying Mr. Ali would "float like a butterfly, sting like a bee." The description entered the vernacular.
A funeral for Mr. Ali will be held in his hometown of Louisville, Kentucky, according to The Associated Press. City officials scheduled a memorial service Saturday.
Mr. Ali appealed to people of every race, religion and background, but during the turbulent, divisive 1960s, he was particularly seen as a champion of African Americans and young people. Malcolm X, who recruited Mr. Ali to the Nation of Islam, once anointed him "the black man's hero."
Comments Off on Twitter $2 Billion
Twitter $2 Billion, Twitter, in an annual 10-K report filed yesterday, revealed just how much money it has bled over the past decade: two billion dollars.
In their report, Twitter bluntly acknowledged the extent of the company's problems:
Since our inception, we have incurred significant operating losses, and, as of December 31, 2015, we had an accumulated deficit of $2.09 billion. Although our revenue has grown rapidly, increasing from $28.3 million in 2010 to $2.22 billion in 2015, we expect that our revenue growth rate will slow in the future as a result of a variety of factors, including the decline in the growth rate of our user base.
Twitter has been an unprofitable company since before it went public in 2013, accruing more than $400 million prior to its stock market flotation. That loss-making record has not changed. However, after its IPO, those early losses increasingly look like a drop in the ocean. In 2015 alone, Twitter recorded a loss of $520 million, primarily as a result of stock-based compensation given to employees.
Twitter of course prefers to ignore these figures and measure their worth on "adjusted earnings," which exclude the stock-based rewards noted above along with some other expenses, giving them a net income of $277 million in 2015. Even though this is what Wall Street would take as a more accurate figure, those same investors are still massively sceptical over Twitter, leading to its stock price dropping from $70 to $20 at the start of the year, as reported in Breitbart.
So why exactly is Wall Street lacking in confidence with Twitter? Their primary concern is its declining user base, which has not been helped by the dramatic loss of confidence amongst many of the platform's more political users.
Twitter is currently waging war on conservative users, whilst ignoring real threats like ISIS. Breitbart Tech editor Milo Yiannopoulos was firstly suspended, then unverified. Shadowbans silence those who question friends of Twitter's CEO. A new "trust and safety" council has been implemented to stop "harassment". High profile conservatives with large followings, such as Adam Baldwin, have quit the platform in protest.
And now, even anti-establishment progressives are starting to ask questions about Twitter's political biases. Supporters of Democratic presidential contender Sen. Bernie Sanders (I-VT) recently accused the platform of censoring hashtags on behalf of Hillary Clinton, after an anti-Clinton hashtag fell of the site's "trending" list despite beating other trending hashtags in activity.
Twitter has also alienated long-term users with a series of radical departures from its tried and tested features. They rolled out a new timeline system based not on chronological order, but "relevance," despite massive user backlash. They also changed the site's "favourites" feature to a Facebook-style system of "likes," to considerable user discontent.
In their report, Twitter stated that they wanted to "demonstrate our value proposition to a larger audience". There have yet to be any signs that their efforts are paying off.
Comments Off on Laptop-bomb exploded?: Laptop Bomb Somalia Plane
Laptop-bomb exploded?: Laptop Bomb Somalia Plane, The man sucked out of a Somali airliner after an inflight explosion has been identified as Abdullahi Abdisalam Borleh, an elderly Somali national, Somalia officials said Friday.
Investigators suspect he carried a laptop computer with a bomb concealed onto the plane, according to a source familiar with the investigation.
The source said Borleh apparently knew precisely where to sit and how to place the device to maximize damage. The source said, given the placement, the blast likely would have set off a catastrophic secondary explosion in the fuel tank had the aircraft reached cruising altitude.
The source added that investigators believe the attack was orchestrated by the al Qaeda affiliate Al Shabaab, although they are not certain that Borleh was a direct member of the group. No group immediately took responsibility for the act.
The bomb contained a military grade of the explosive TNT, according to the source, citing an initial analysis of residue recovered from the aircraft.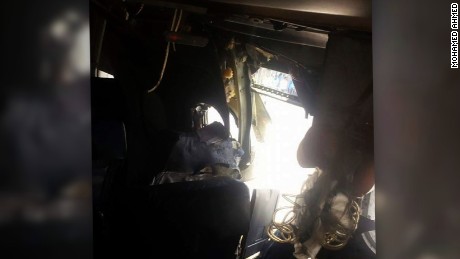 Comments Off on Bruce Springsteen The River: Announces Tour Plans
Bruce Springsteen The River: Announces Tour Plans, The last time Bruce Springsteen and the E Street Band were in Dallas, it was for a one-off performance at Reunion Tower during the NCAA March Madness festivities back in 2014. As usual, The Boss put on a killer show, although the novelty of having it at Reunion was dampened some by the chilly, rainy weather. That shouldn't be a concern this time around, though, as Springsteen is set to return to Dallas two years almost to the day for a visit to American Airlines Center on April 5.
Springsteen and co. are on the road celebrating the 35th anniversary of their classic double-LP, The River, which is being commemorated with a massive four-CD, 52-song box set dubbed The Tie That Binds and an accompanying U.S. tour. Plans for the tour were first announced last week, but the dates only came out this morning. Dallas, it turns up, will be the final stop on the 23-date tour. There will be a a more than two-week break between it and the prior tour stop, but chances are he and the band should be in fine form by the time they hit town.
Tickets to see Springsteen and the E Street Band go on sale this Saturday, January 30, at 10 a.m. at ticketmaster.com.
The full list of The River Tour dates:
January 24 & 27 New York, NY Madison Square Garden
January 29 Washington, DC Verizon Center
January 31 Newark, NJ Prudential Center
February 2 Toronto, ON Air Canada Centre
February 4 Boston, MA TD Garden
February 8 Albany, NY Times Union Center
February 10 Hartford, CT XL Center
February 12 Philadelphia, PA Wells Fargo Center
February 16 Sunrise, FL BB&T Center
February 18 Atlanta, GA Philips Arena
February 21 Louisville, KY KFC Yum! Center
February 23 Cleveland, OH Quicken Loans Arena
February 25 Buffalo, NY First Niagara Center
February 27 Rochester, NY Blue Cross Arena
February 29 St Paul, MN Xcel Energy Center
March 3 Milwaukee, WI BMO Harris Bradley Center
March 6 St Louis, MO Chaifetz Arena
March 10 Phoenix, AZ Talking Stick Resort Arena
March 13 Oakland, CA Oracle Arena
March 15 & 17 Los Angeles, CA Los Angeles Memorial Sports Arena
April 5 Dallas, TX American Airlines Center
Comments Off on Facebook Reactions: 'Reactions' Coming
Facebook Reactions: 'Reactions' Coming, Facebook is poised to launch its new "Reactions" feature worldwide, giving its 1.6 billion users more ways to quickly express their feelings on the world's largest social network.
The Reactions, which were first unveiled in October 2015, include "Love", "Haha", "Yay", "Wow", "Sad" and "Angry" – as well as the traditional "Like" button.
They are currently being tested in Spain, Ireland and a few other places, but Facebook boss Mark Zuckerberg has confirmed that they will roll out everywhere "pretty soon".
"The philosophy behind it is that when you only have a 'like' button, if you share a sad piece of content or something that makes you angry, people may not have the tool to react to it," he explained in a conference call with analysts on Wednesday.
"We want people to be able to share all of the things that are meaningful to them, not just the things that are happy and that people are going to 'like' when they see it."
The list of options appears when a person holds down the Like button on a mobile, or hovers their mouse over it on the desktop version of the site.
The status then displays counters for each reaction – how many likes, sad faces and so on a status has received.
Although the news has prompted excitement on social media, many Facebook users are disappointed Zuckerberg chose not to introduce a "dislike" button – reportedly one of the site's most requested features.
Zuckerberg said that he had ruled out a dislike button because he was concerned it would cause negativity.
"We didn't want to just build a dislike button because we don't want to turn Facebook into a forum where people are voting up or down on people's posts. That doesn't seem like the kind of community we want to create," he said.