Berkeley Balcony Collapse
Berkeley Balcony Collapse, A fourth-floor apartment building balcony collapsed onto the sidewalk just blocks from the University of California, Berkeley campus early Tuesday, killing six young people celebrating a 21st birthday and leaving seven other people injured, police said.
The sixth person was declared dead just before 9 a.m., according to the Alameda County Coroner. The first five people were Irish citizens, according to the country's foreign minister. There was no immediate confirmation that the sixth person was an Irish citizen. A memorial of menthol Parliament cigarettes, flowers, lollipops and cards marked the fatal scene.
"I was absolutely devastated to hear the news, particularly when one thinks of young lives that are the edge of so much and looking forward to futures that were very bright," Ireland's president, Michael Higgins told NBC News from a conference he was attending in Italy.
Many of the injured were taken to at least four hospitals in critical condition with life-threatening wounds, police spokeswoman Jennifer Coats said. Witnesses at the scene said many of the young people, mostly in their 20s, were in California to work and study for the summer. Two young women said the gathering was for a female friend's birthday, who had just turned 21 and was working at a San Francisco restaurant. They were part of a Dublin-based group called USIT Ireland, which expressed on its website its "deepest sympathy and support" to the families involved in this "truly tragic situation."
Police officer Byron White said they received a noise complaint about a loud party about an hour before the 12:41 a.m. collapse, but they did not respond. When officers arrived they found that the balcony on the fourth floor of the building, completed in 2006, had disintegrated.
NBC Bay Area's chopper flew overhead at 2020 Kittredge Street, showing a small balcony that had ripped off a pale yellow building and debris scattered in the street. As many as 13 or 14 people had been on the balcony, police and witnesses said. Police say all the other balconies in the complex were red-tagged Tuesday morning, too, as a precaution. A property restoration company arrived before 11 a.m. to take down the balcony altogether.
Mark Neville lives on the ground floor of the building and is also is Berkeley on a J-1 visa from his hometown in Longford County, Ireland.
"Everyone back home is in shock," he said. "My parents are personally in state of panic. My dad said it was worst hour and half of his life just waiting for the call back saying I'm safe."
Alfredo Durán, who does maintenance in the building and lives there, said that he heard a party, "a lot of music and noise," before the balcony collapsed. Though he did not go outside, he speculated that the party goers might have been jumping on the balcony.
"I'm scared and concerned for the building," he said. "I live here. Anything can happen."
Berkeley Balcony Collapses Kills Party Goers
Ireland's Minister for Foreign Affairs and Trade Charlie Flanagan said the first five people who died were Irish citizens. In a separate tweet, the foreign ministry's office indicated the citizens were students on J-1 visas, asking anyone with such a visa call their parents at home to let them know if they were OK. These visas allow people to teach, study, research and be trained in the United States.
"My heart goes out to the families and loved ones of the deceased and those who have been injured in this appalling accident," Flanagan said in a statement. "My department in Dublin stands ready to provide all possible consular assistance to Irish citizens affected by this tragedy."
.@CharlieFlanagan expresses sympathy at Irish deaths in California. Consular Crisis Centre activated +353 1 418 0200 pic.twitter.com/YSiGMvyjXC
— IrishForeignMinistry (@dfatirl) June 16, 2015
According to the Irish Times, more than 8,000 Irish students go to the United States on these visas, and 35 percent, or 2,800, travel to California, with the San Francisco Bay Area as their top spot.
The building is just two blocks from the campus of the University of California, Berkeley, which offers visiting students accommodation through a subletting service, the Times reported.
The building in question, Library Gardens Apartments, is owned by the Houston-based Greystar.
The company manages more than 400,000 apartments around the country, including five in Berkeley. On its website, the apartments are touted as the "premiere choice for convenient Berkeley" living, near "world class" shopping and restaurants.
No one answered the phone at the apartment complex in Berkeley early Tuesday morning, and no one immediately responded from the corporate office.
Coats said officers are still investigating and she doesn't have any information on how it occurred or what the people were doing on the structure at the time.
"We don't know what happened, " she said. "This was a traumatic scene. Our officers and paramedics responded very quickly. They did what they could to help as many people as they could. It's going to be a very sad day for a lot of these victims' families to get this kind of news."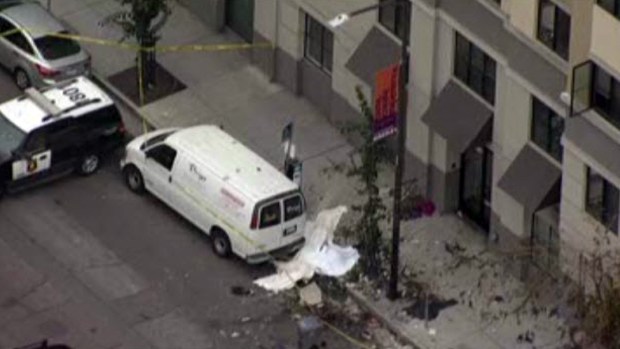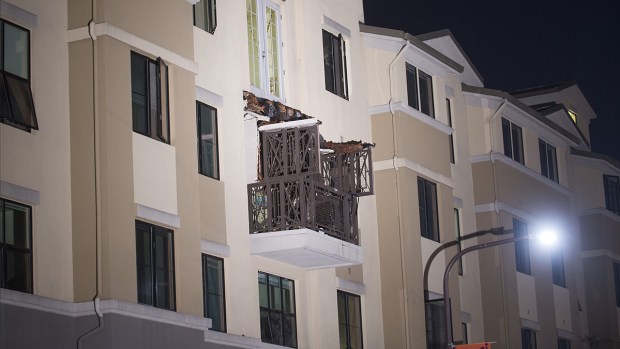 _________________________________________
Please feel free to send if you have any questions regarding this post , you can contact on