Comments Off on Solar plane lands: Solar Impulse 2 New York
Solar plane lands: Solar Impulse 2 New York, The solar-powered plane Solar Impulse has arrived at New York's JFK airport after making the short trip from Lehigh Valley in Pennsylvania.
Taking off late on Friday night local time, the aircraft spent a good part of the journey turning around the Statue of Liberty for a photoshoot.
This latest flight marks the completion of the trans-America portion of the quest to circle the globe on no fuel.
Solar Impulse must now prepare for a daunting crossing of the Atlantic.
The plane flew over the Statue of Liberty just after 02:00 local time (06:00 GMT).
As he approached the famous landmark, pilot Andre Borschberg spoke with the BBC via satellite phone.
"The US is a country where you meet a lot of entrepreneurs and pioneers, and so to end our American crossing at the Statue of Liberty – which represents for me the freedom of enterprise and the freedom to innovate that is the spirit you can find in this country – is so symbolic."
Mr Borschberg's partner on the Solar Impulse project, Bertrand Piccard, will take over for the Atlantic leg.
Deciding when to cross the ocean will be a tricky decision. The slow-moving, ultra-light plane needs benign winds, and the team concedes that the right conditions may not present themselves for several weeks. "Patience will be the word," said flight director Raymond Clerc. "I expect the flight to take 3-4 days."
The team would like to aim for the French capital, Paris, to reference the historic first solo Atlantic plane crossing made by Charles Lindbergh in 1927. But the weather systems may simply not permit this, and take Solar Impulse instead further south, perhaps to Toulouse, or to Seville in Spain.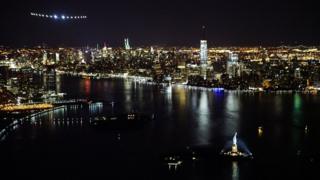 Comments Off on Muhammad Ali Dies
Muhammad Ali Dies, Muhammad Ali, the charismatic three-time heavyweight boxing champion of the world, who declared himself "the greatest" and proved it with his fists, the force of his personality and his magnetic charisma, and who transcended the world of sports to become a symbol of the antiwar movement of the 1960s and a global ambassador for cross-cultural understanding, died June 3 at a hospital in Scottsdale, Ariz., where he was living. He was 74.
His family released a statement confirming his death. The boxer had been hospitalized with respiratory problems related to Parkinson's disease, which had been diagnosed in the 1980s.
Mr. Ali dominated boxing in the 1960s and 1970s and held the heavyweight title three times. His fights were among the most memorable and spectacular in history, but he quickly became at least as well known for his colorful personality, his showy antics in the ring and his standing as the country's most visible member of the Nation of Islam.
When he claimed the heavyweight championship in 1964, with a surprising upset of the formidable Sonny Liston, Mr. Ali was known by his name at birth, Cassius Clay. The next day, he announced that he was a member of the Nation of Islam, a move considered shocking at the time, especially for an athlete. He soon changed his name to Muhammad Ali.
"I know where I'm going and I know the truth, and I don't have to be what you want me to be," he said at the time, signaling his intent to define his career on his own terms. "I'm free to be what I want."
Mr. Ali came to represent a new kind of athlete, someone who created his own style in defiance of the traditions of the past. Glib, handsome and unpredictable, he was perfectly suited to television, and he became a fixture on talk shows as well as sports programs.
He often spoke in rhyme, using it to belittle his opponents and embellish his own abilities. "This is the legend of Cassius Clay, the most beautiful fighter in the world today," he said before his 1964 title bout. "The brash young boxer is something to see, and the heavyweight championship is his destiny."
One of his assistants, Drew "Bundini" Brown, captured his lithe, graceful presence in the ring, saying Mr. Ali would "float like a butterfly, sting like a bee." The description entered the vernacular.
A funeral for Mr. Ali will be held in his hometown of Louisville, Kentucky, according to The Associated Press. City officials scheduled a memorial service Saturday.
Mr. Ali appealed to people of every race, religion and background, but during the turbulent, divisive 1960s, he was particularly seen as a champion of African Americans and young people. Malcolm X, who recruited Mr. Ali to the Nation of Islam, once anointed him "the black man's hero."
Comments Off on Gujarat Riots Massacre
Gujarat Riots Massacre, An Indian court has convicted 24 people – 11 for murder – over a massacre during religious riots 14 years ago in Gujarat state, then led by the current prime minister, Narendra Modi.
Judge PB Desai found them guilty of hacking to death and burning 69 Muslims sheltering in a residential complex in the city of Ahmedabad, in one of the single worst massacres of the week-long violence. They are expected to be sentenced next week.
The riots, which left more than 1,000 people dead in total, have long dogged Modi, who was accused by human rights groups of turning a blind eye to the violence as then chief minister of Gujarat.
But the latest verdicts are unlikely to have an impact on the Hindu nationalist premier, who was cleared in 2012 by a supreme court-ordered investigation.
Celebrations erupted in the courtroom in Ahmedabad amid tight security after the verdicts were read out on Thursday, with victims and their families clapping and thanking the judge.
But Desai also acquitted another 36 people for lack of evidence and stated the massacre was a spontaneous attack, not a criminal conspiracy as many victims have alleged.
Comments Off on Prince Opioid Overdose
Prince Opioid Overdose, It's official: Prince died of an overdose from opioid painkillers, becoming the latest high-profile victim of America's opioid epidemic.
Prince died unexpectedly at his home in Minnesota on April 21. According to the Associated Press, Prince died of an overdose from fentanyl, a highly potent opioid.
Prince had been reportedly trying to check in to drug abuse treatment but couldn't get an appointment before he died. As my colleague Julia Belluz reported, that even a rich celebrity couldn't access care in time demonstrates how difficult it can be to get into treatment. According to 2014 federal data, at least 89 percent of people who met the definition for a drug abuse disorder didn't get treatment. Patients with drug abuse disorders also often complain of weeks- or months-long waiting periods for care.
The news of Prince's overdose is absolutely tragic, but it's also an issue that Americans are becoming more and more aware of. According to a Kaiser Family Foundation survey, one in five Americans has a family member who's addicted to prescription painkillers, and more than four in 10 Americans personally know someone who's addicted. And in 2014, overdose deaths reached a record high, because of the increase in opioid deaths.
Comments Off on Harry Reid Bernie Sanders
Harry Reid Bernie Sanders, Bernie Sanders needs to recognize that "sometimes you just have to give up," Senate Minority Leader Harry Reid said Wednesday.
Reid said his fellow senator should not carry his presidential campaign through to the Democratic National Convention in Philadelphia, as he intends to do.
Instead, Reid said, Sanders needs to recognize that "math is math" after next week's primaries in California and New Jersey, when Hillary Clinton is expected to rack up enough delegates to effectively clinch the nomination.
"I've never been too good at math but I can figure that one out. I think he better do a little mathing," Reid told The Associated Press in an interview in his home state of Nevada.
Reid, who has endorsed Clinton, stopped short of calling on Sanders to drop out. But he made his views clear in direct and even harsh terms.
Comments Off on Woman Jailed In UAE
Woman Jailed In UAE, An unidentified American woman is apparently begging officials in the United Arab Emirates (UAE) to let her out of jail.
The 25-year-old has been jailed for seven weeks, and has asked to pay a fine for her alleged crime so she can finally be released and go home, according to the UAE's English-speaking newspaper The National.
These requests have apparently fallen on deaf ears. The woman has been jailed since Feb. 23 and the verdict in her case won't be read until early May, the Associated Press reported.
Her crime? Insulting two men who tried to help her at the Abu Dhabi International Airport.
The nature of the incident in question is quite vague. The AP and the National reported slightly different versions of the exchange that got her jailed in UAE.
The woman was waiting for a taxi at the airport when two men approached her and offered to help her in some way. It appears as though Abu Dhabi was a pit stop in her travels and not her destination, as she told the Federal Supreme Court that she had another flight at 1:29 a.m.
It's not clear who insulted whom. In one account, the men "spoke to her in a manner she did not like." In another account, the men "did not like the way she spoke to them."
The woman told the court that she "refused to engage with them and nothing happened."
It's not clear when she was picked up by the authorities or how they became aware of the incident. It's also not clear if any evidence had been presented against her.
Officials have jailed the woman on a charge of insulting the nation and its leaders through "verbal assault."