Comments Off on Sale Cueto to start: All Star Starting Pitchers
Sale Cueto to start: All Star Starting Pitchers, Chris Sale and Johnny Cueto were named starting pitchers for the American and National League All-Star teams on Monday, lending a little flavor to Tuesday night's game at Petco Park.
AL manager Ned Yost opted for the hard-throwing, dominant Sale over Boston Red Sox knuckleballer Steven Wright, whose 2.68 ERA leads the AL.
Cueto saw his competition for the starting nod dissipate, as Dodgers left-hander Clayton Kershaw and Mets righty Noah Syndergaard were felled by injury or arm troubles, and Washington Nationals right-hander Stephen Strasburg opted not to pitch.
Comments Off on The Bunker-Like Vault Where Jet Engines Prove Their Worth

The Bunker-Like Vault Where Jet Engines Prove Their Worth, Before takeoff, jet engines must prove they're safe, reliable, and capable. In episode two of WIRED's Flight Mode we step into the massive bunkers where engineers test and maintain these mighty beasts, all to keep you up in the air.
Comments Off on This is How Often You Really Need To Shower

This is How Often You Really Need To Shower, My cosmetologist told me several years back that I should stop showering every day, or at least I should quit washing my hair every day, because it wreaks havoc on both the health of my hair and the color processing I have done on my hair.
I also struggle with abnormally dry skin and I occasionally have keratosis pilaris, otherwise known as "chicken skin," on the backs of my upper arms. My doctor told me that showering daily was exacerbating my skin problems. He also told me to quit using shower gel and a loofah to scrub all of my skin. Instead, he recommended that I only use soap in my armpits, groin and buttocks area – that's it.
Although I continue to shower each day (sorry, doc), I have cut down on my use of soap and it really has helped keep my skin from drying out, though I still use lotion. It's also cut down on my shower time and water usage.
This begs the question: How often should we be showering? Daily? Every other day?
There seems to be no hard and fast answer.
"Depending on your activity level, you may need to shower daily, for instance if you have a labor-intensive job or if you exercise for over an hour every day," dermatologist David E. Bank, director of the Center for Dermatology in Mount Kisco, New York, told Glamour.
Bank says showering every other day or three times a week is plenty for most people to stay clean.
"By showering every other day you are able to help maintain your skin's natural oils and make the skin softer and less irritated by hot showers," he says, adding that the oils in your skin can help protect it against harmful bacteria.
Author Robert Brumm wrote last year in this blog post that although he hops in the shower daily, he has completely stopped using soap and shampoo. Instead, Brumm cleans his hair and body by using "hot water, a wash cloth, and good ol' friction."
If you think that sounds a little weird or gross, Brumm says based on his experience you couldn't be more wrong.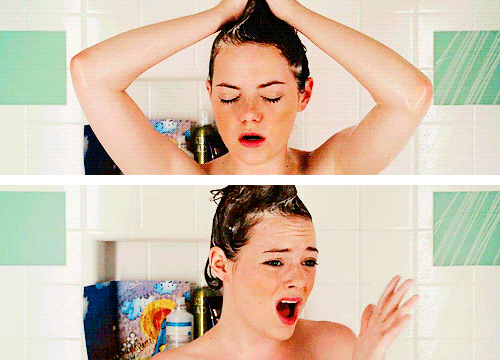 Comments Off on Here's What Would Happen If The Supervolcano Under Yellowstone Erupted

Here's What Would Happen If The Supervolcano Under Yellowstone Erupted, Yellowstone is well known for its "Old Faithful" geyser and its stunning wildlife.
But the national park also sits atop a supervolcano, simmering just under the surface. You can see some of the evidence of its active state in the hydrothermal activity that bubbles up, including the Old Faithful geyser that shoots up water every few hours.
Supervolcanos are characterized as volcanic centers that have had eruptions that covered more than 240 cubic miles. The US has two: Yellowstone, and another at Long Valley in California.
Yellowstone has had three major events in the past 2.1 million years, which led to the creation of the calderas, or large volcanic craters.
Scientists don't think Yellowstone's supervolcano will be erupting any time soon (at least, not in the next thousand years.) So if you're planning a trip there, you shouldn't be too concerned.
If it did erupt, it could have some pretty extreme effects on the surrounding areas.
For starters, the eruption could emit ash that would expand over a 500-mile area (seen below). For comparison, this map shows the area that the Mount St. Helens 1980 eruption ash reached.
Comments Off on Outrage As Bikini-Clad Women Cool Off In 17th Century Fountain

Outrage As Bikini-Clad Women Cool Off In 17th Century Fountain, Residents of Rome have reacted angrily after three women stripped down to their swimsuits to cool off in one of the city's historic fountains.
The women, two of whom were wearing bikinis and the third in a one-piece swimsuit, are believed to have been tourists.
With temperatures hitting 90F (32C) the women thought the best way to cool off was to frolic under the jets of water in the 400-year old Fontana dell'Acqua Paola in Rome.
It dates back to 1612 and was featured in the opening scenes of Paolo Sorrentino's Oscar-winning film "The Great Beauty".
The city's extensive network of baroque fountains are cherished by Romans as some of the architectural highlights of the Italian capital.
Anyone leaping into the fountains faces a fine of up to 200 Euros (£170).
Comments Off on Ufc Mark Hunt Vs Brock Lesnar
Ufc Mark Hunt Vs Brock Lesnar, Hello and welcome to live updates of UFC 200, featuring Kiwi Mark Hunt taking on WWE superstar Brock Lesnar.
Over 20 years of fighting under the ample belt of Mark Hunt but the 'Super Samoan' will have never been under as glaring a spotlight, taking center stage in what will likely be the UFC's biggest event of all time as they celebrate their 200th pay-per-view with a stacked card for the ages.
A classic 'Striker vs Grappler' match-up, can Hunt nullify Lesnar's powerful wrestling game and land that killer left hook?
We bring you live streaming written commentary, video highlights and all the action. VIDEO will be available at the conclusion of the main event.
LIVE COMMENTARY
This live coverage checks for updates every minute
This live coverage has now finished
Check out the highlights above…
Meisha Tate vs Amanda Nunes – Nunes wins via first round submission
5:02pm – Amanda Nunes stuns the MMA world with a dominant first round submission of champion Meisha Tate, wobbling her on the feet with some brutal strikes before sinking in a neck crank to to become the new women's bantamweight champion.
Mark Hunt vs Brock Lesnar – Lesnar via unanimous decision
4:38pm – And Lesnar is awarded the unanimous decision win. Credit where it's due, what an athlete.
Round Three – Lesnar with the early takedown and he's in excellent position, stinging Hunt with blows from top position. Hunt in an awkward spot now, Lesnar controlling him expertly. Lesnar landing continuous shots now, and he moves into full mount with 2 mins remaining. He's looking for the submission now, in between raining shots to the side of Hunt's head. Mixing up the levels now, body to head as the fight draws to a conclusion. An impressive performance by Lesnar after such a long lay-off from the sport.
Round Two – Another tentative start to the round, Hunt swings a big overhand right which just misses its target. Lesnar shoots a takedown and Hunt defends it well, excellent sprawl. Lesnar starting to look fatigued. Hunt shrugs off another takedown, controlling the octagon now but not throwing much offense. Lesnar grabs a leg, presses Hunt against the fence. No takedown coming and the round closes. Anyones round that one. Huge third coming up.
Round One – Both fighters tentative as they feel each other out early. Monster swing and a miss from Hunt as Lesnar shoots the takedown. Gets Hunt on the second attempt and he has Hunt against the fence. Hunt goes down briefly but fights his way back to his feet, and now Lesnar has him flat on the deck in side control, dangerous spot for the Kiwi. Lesnar landing big punches, Hunt fights to his feet again but Lesnar shoots immediately and has him down, straight into full mount. Hunt hangs on as the hooter ends the round. Impressive opener from Lesnar, he has that one comfortably.
4:14pm – The lights dim as the all too familiar strains of Metallica's 'Enter Sandman' ring out…and here comes Lesnar. The man looks genetically engineered.
4:13pm – Hunt strolls out to the octagon looking typically relaxed. As veteran a fighter as they come, no way will he be overawed by the occasion.
4:06pm – A little ahead of myself, think we're looking at about 4:15pm for the walk-outs.
3:57pm – Time for the real main event people! Mark Hunt set to make his entrance momentarily.
Dan Cormier vs Anderson Silva – Cormier wins via unanimous decision
3:55pm – The Spider launches at Cormier as the final minute ticks away, wobbles the champ. DC manages to tie him up and that will do us. A comfortable win for Cormier, but an impressive effort all things considered by the greatest fighter to ever grace the octagon.
3:54pm – Cormier smothers Silva through the majority of the round while doing minimal damage, and the crowd aren't best pleased. 'Stand them up' chants breaking out, that's a first. The referee eventually obliges.
3:48pm – Silva really showing the effects of the lack of training camp, looking heavily fatigued as the second round closes.
3:45pm – Silva threatens with a few trademark kicks to open the second round but soon finds himself back on the ground and under Cormier's considerable frame.
3:40pm – The first round ends as it started, DC on top and landing elbows. Silva defending resolutely but he's eaten a few through the guard.
3:38pm – We're underway….and predictably Cormier shoots the early takedown and he's already on top of Silva and laying down some ground strikes. Cormier clearly the much bigger fighter.
3:28pm – The GOAT is up next, filling in for the ousted Jon Jones against light heavyweight champion Dan Cormier. If 'The Spider' somehow pulls this off, stepping up a weight class on 48 hours notice with barely any training under his belt…..
Wow.
Jose Aldo vs Frankie Edgar – Aldo wins via unanimous decision
3:16pm – And there it is, the new UFC interim featherweight champion, Jose Aldo Jr. Here's hoping we eventually see a rematch with McGregor.
3:11pm – Aldo continues to avoid the power shots of Edgar, tagging him with counters on the exit. Frankie's face is a mess now, Jose looking virtually untouched. The final hooter sounds, and that should be a comfortable win for Jose Aldo, one of the most impressive of his career.
3:05pm – Aldo is looking phenomenal, counter-striking beautifully and Edgar seems frustrated. Frankie needs a KO or submission to win this fight as we head into the final round, he's surely behind on the judge's scorecards.
3:01pm – Edgar wearing some damage now, Aldo still looking fresh. End of the 3rd round, I believe he's sitting ahead 2-1 entering the championship 4th and 5th.
3pm – Aldo using his reach advantage well, continuing to stuff the takedown. Edgar landing leg kicks with regularity but there isn't much sting on them.
2:53pm – Aldo defending Edgar's takedowns well, and he's opened a cut above the right eye of his opponent now. The Brazilian with another strong round.
2:49pm – Electric opening round from both fighters, Aldo catching Edgar with a knee as the round ticked to a close..may have stolen him a close opening stanza.
2:41pm – Jose Aldo looking, the greatest featherweight in MMA history, looking to bounce back from his shock first round KO loss to Conor McGregor. Frankie Edgar on a tear of late. Strap up….
2:37pm – Frankie Edgar sprints to the octagon to Biggie's 'Kick in the Door' as we get set for an interim featherweight title belt with Brazilian Jose Aldo. This is my pick for fight of the night.
2:31pm – We're looking at approximately 3:45-4pm for Hunt vs Lesnar, by my own predictions at least. Don't quote me on that.
Cain Velasquez vs Travis Browne – Velasquez wins via first round TKO
2:22pm – Velasquez applying that famous pressure of his early, Browne has eaten a few brutal combinations already. Browne looks completely fatigued, Cain unrelenting as he takes his back and unleashes with ground and pound as the round ticks to a close, but the bell doesn't come quickly enough to save the Hawaiian. Referee steps in and this one is all over. A trademark Velasquez beatdown. Velasque
2:13pm – Proud Hawaiian Travis Browne, partner of superstar Ronda Rousey, makes his way to the octagon for the first fight of today's main card – Velasquez vs Browne.
Commentary will start from around 2pm. In the meantime check out the video above for a pre-fight interview with Mark Hunt himself.
Fight Card:
Cain Velasquez vs Travis Browne – Velasquez wins via first round TKO
Jose Aldo vs Frankie Edgar – Aldo wins via unanimous decision
Dan Cormier vs Anderson Silva – Cormier wins via unanimous decision
Co-main event – Mark Hunt vs Brock Lesnar – Lesnar wins via unanimous decision
Main event – Miesha Tate vs Amanda Nunes – Nunes wins via first round submission
Pre-fight banter
Hunt: I'm going to spoil the party
Jon Jones and Daniel Cormier have been erased from the marquee outside the T-Mobile Arena in Las Vegas, leaving South Auckland's own Mark Hunt and Brock Lesnar as the faces of UFC 200.
Sunday's showdown with Lesnar was already going to be the biggest fight of Hunt's career, but with Jones' shocking removal from the card last night, it's suddenly a whole lot bigger.
But Hunt's taking his elevation to the top of the card in his stride.
"I'm disappointed at what happened to the main event," Hunt said at this morning's open workout. "I'm disappointed for Daniel Cormier, but I'm always ready to fight."
Hunt worked out in a sweat suit this morning, sparking some fears that his weight cut may not be going to plan. Hunt admitted that he is still cutting weight, but making the UFC's 265lb. heavyweight limit will not be an issue.
"Just too much cheesecake, I guess," he joked, while adding that this weight cut is nothing like the one in Adelaide last year, where Hunt had to lose 11kg in a single day before a sluggish TKO loss to Stipe Miocic.
Hunt is well aware of the magnitude of this weekend's fight and what a win over Lesnar can do for his career.
"This fight is really important. The whole world is watching this fight. It's great for the Mark Hunt brand.
"I know a lot of people are here to see Brock, but I'm sorry, I'm going to spoil the party for you guys."
Brock Lesnar was even more relaxed than Hunt. He chose not to work out for the fans, but took the time to answer questions.
Lesnar said he only found out about Jones' failed drug test this morning and isn't concerned about his position on the card.
"Merry Christmas to Brock Lesnar, I guess," was his reaction.